We have just started a series of workshops together with actress Birgit Nordby to explore different ways to specify a service experience and define a brand personality. The background for this work is that service experiences are difficult to describe and specify.There are several reasons for this:
we don't have a terminology to describe experiences
we don't have a methodology to specify experiences
an experience has to be experienced to be understood
Our aim is to enable project teams to be able to specify the customer experience early in the service design phase, so that the project team can reverse engineer the actors, touch-points, offering to enable this experience. Â Whether or not we will get there, I don't know, but the goal of experience-pull for services is a good one.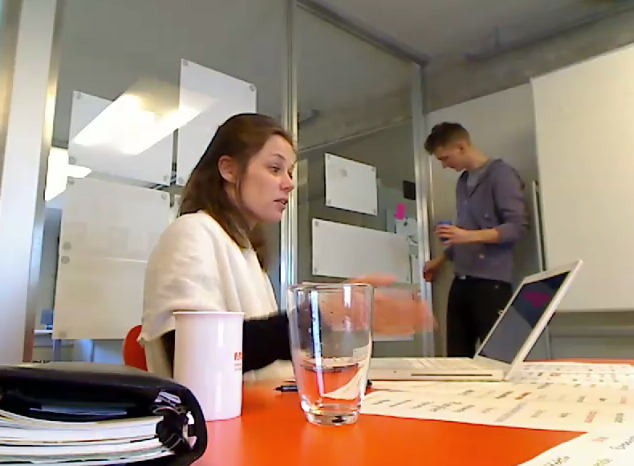 Hans Christian, Birgit  and I, chose to use his diploma project (link) on trust in insurance services as a case study. To kick off the process, we decided to work together with Birgit to help refine the call-centre customer experience. We have a list of experience words that we have generated over time that we use for our experience workshops, so we based ourselves upon these. These words come from some desirability work carried out at Microsoft some time back, and from work by Aaker on brand personality.  Birgit helped us express these words, by enacting different roles based upon these words ( words such as empathic, close, friendly, relevant, respectful, flexible etc). Using the enactments, we have been able to differentiate between the experience that is given, and it has helped us to refine and define the terms that we wish to use for the service. 
We really didn't know how this would go, but after the first workshop we found some interesting things. Firstly, that the approach has promise – its not a waste of time. Its very possible to refine the personality of a service and to experience the consequence of this personality in real time. Â Secondly, that tone of voice is not enough to differentiate, when it comes to words that are fairly close to each other (eg. the words relevant and respectful). To differentiate at this level, you need to combine tone of voice, formulation of text and behaviour. Â Thirdly, that an iterative workshop works well to help refine and define both personality and experience. Finally, we think that video can be used to document this successfully for use in a project team. In fact, what I think we might be moving towards, is the creation of a kind of persona for the service itself, that becomes part of the specification and service blueprint. I am now beginning to think that service blueprints should comprise of text, evidencing and also video as an effective means of specifying a service.
 
We will be running several other workshops during the spring, to take this explorative start further, and I hope  we can post a video of the results. We will hopefully present the work at the Nordic Service Design Conference in November (link). So far, our experiments are based in Norwegian, but I hope we can move over to English later.