Concepts describe the direction, content and core offering of a service that you suggest a company develop. They are high level descriptions that are detailed enough for someone to grasp, yet are at such an early stage that they have not consumed a lot of resources in their development. In other words, they are a relatively cheap way to show the future potential of a service.
 
The AT-ONE project takes the view that concepts are an overlooked resource for an organisation, something that organisations should develop more often. Concepts open a window to a potential future and answer the question "what if". 
 
Concepts are a cheap way to stimulate an organisation to change and we like to use the example of the concept car to explain their importance. Today, concept cars are regularly produced by the motor industry.  Why do they produce them? Firstly, they are a strong branding tool, and reinforce the brand message of the company, Secondly, they are used to explore new directions, without investing huge amounts of money. Thirdly, they are used as  a kind of first level user test, to gauge user opinion for new directions. Fourthly, they are used to influence our tastes and to introduce new trends. Finally, and importantly, they are used internally in the organisation as a catalyst for change, to continually remind the organisation to innovate. Taken together, the concept car gives five good reasons for their existence. They are a cheap way to do this.  We question therefore why service companies don't embrace the concept car idea and create service-concepts? I think the reason for this is that there is a mindset in service development towards creating low-cost commodity services. The idea of differentiating a service is relatively new, and the tradition of concept- cars has not embedded itself into the service organisation.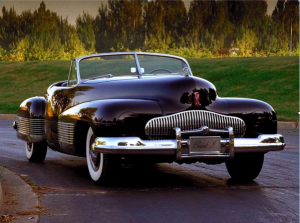 The Buick Y was the worlds first concept car. Produced in 1938
There are exceptions though, and some service-companies have started to use the concept-car idea:
airlines show off new services through concept interiors for business and first class

supermarkets create future stores that show off new technologies and solutions

petrol stations create concept stations before they develop them and roll them out
However, these are often more of a prototype for evaluation rather than concepts aimed at achieving all five of the above goals. 
Denis Weil from McDonalds showed some concept store work at the SDN conference recently, and it was clear that the concept-car idea lives on in McDonalds. 
A McDonalds service concept.
If you are interested in finding out more about his work at McDonalds, have a look at the video of his presentation (link)
So, do as McDonalds do, create your  own Buick Model Y, and start a culture of concept service work. If you want to improve your customer focus, design experiences but most of all, change the culture of your organisation, give it a go.