Monika Hestad over at Plan (link) sent me a link to Kevin McCullaghs thoughtful comments (link) to the design thinking session organised by the Economist (link). This was remarkable for several reasons.
Firstly, that the Economist has organised something big around design thinking (for a detailed view on Design Thinking, look here). Â Secondly, Kevin has some very good discussion points about the hype around the term. I particularly like this quote:
In fact, design thinking always meant different things to different players. For some it was about teaching managers how to think like designers; for others, it was about designers tackling problems that used to be the preserve of managers and civil servants; and for others still, it was anything said on the subject of design that sounded smart. To most, it is was merely a new spin on design. All its proponents were, however, united by their ambition for design to play a more strategic role in the world than 'making pretty.' Who could argue with that?
But what caught my eye, was this image that was included in the post, of someone visualising a mind map.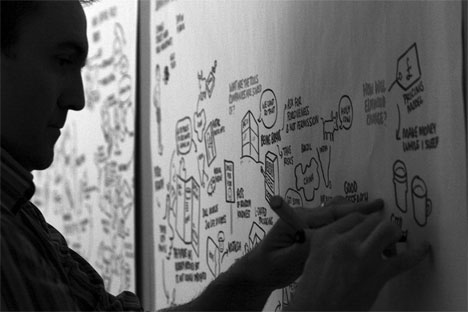 This is a great example of one of the skills that designers bring to workshops – the visualisation of process and/or solution. The thing I like about this image, is that it reminds me of a few designers I know who just can't write words on flip-overs – they have to draw them. Not because they want to look cool, but because the content and form of the image says a lot more than the word alone. Anders from LiveWork is one of these, and it is interesting to see how his visual representations draw people into discussions.
During our interviews validating the AT-ONE method, visualisations are often highlighted by our industrial partners as a major element that designers bring to innovation. This is not a discussion of making things look pretty, its about making shared meaning in a group, something that has incredible value. To visualise an idea, the designer does not just draw a word. Instead, the designer integrates multiple aspects of a solution and finds a visual form that communicates this strongly – often translated into a customer perspective. This allows a team to create a common understanding and is why designers are a central part of the AT-ONE workshop process. When it comes to design thinking, I think this is what it looks like.