At the recent business days for the Norwegian Design Council (link), Tim Ogilvie from Peer Insight (link) described how design is moving up the value chain in the services era (link to presentation).
The presentation started off by commenting that we dont really need more things, but that we are looking for experiences and novelty – basically because all products fulfill our functional needs. Further, he claims that the focus in this decade (and probably the next also) will be upon services and customer experience innovation. (As an aside, he marked 1987 as the tipping point in which services passed goods in terms of economic output – has it taken us that long to realise that fact?).
He listed a series of things that are "in", with Delivering experiences as top of the list, followed by customers, personalisation, IT, Internet and Design Thinking and many more. Continuing, he shows solid evidence that deep customer centricity was a key differentiator between success and mediocrity, citing examples of this as starting with unmet Needs, using ethnography, focussing upon the customer journey (Service Journey), low-fidelity service prototyping (Evidencing) etc.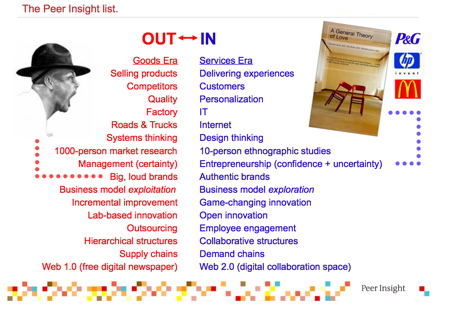 In terms of how to improve innovation, he is a strong supporter of combining design and business, and claims that senior leaders must learn to work with and think like designers. In his summary, he concludes that the Services Era is different and that it is a great time to be a designer.
I greatly value the work that Peer Insight do in terms of combining business research with Design knowledge and am really happy that the elements that he recommends are the areas that we focus upon as central parts of the AT-ONE process:
– customer focussed (Need)
– experience based (Experience and Offering)
– service journey focus
– bringing design and business together
This give me confidence in the approach that the AT-ONE method takes and is some form of benchmarking for what we are doing. Coupled to this, the results of the work we are doing at the moment with our students (who are taking the service design course) gives me a positive view of AT-ONE as a useful tool for Service Innovation.