By Judith Gloppen
I was really pleased to notice that an article about Design Thinking had finally found its way into the Harvard Business Review this summer. In the June 2008 issue IDEO's CEO Tim Brown writes about how design and Design Thinking can be part of the innovation process. 
I like Tim Browns definition of Design Thinking: 
It is a discipline that uses the designer's sensibility and methods to match people' needs with what is technologically feasible and what a viable business strategy can convert into customer value and market opportunity. 
Design thinkers are not necessarily created only by design schools, according to Brown. His experience is that many people outside the professional design have a natural attitude for design thinking, which the right development and experience can unlock…..  There is hope for business people.  In his "A Design Thinkers Personality Profile" some of the characteristics to look for in design thinkers are; Empathy, integrative thinking, optimism, experimentalism and collaboration.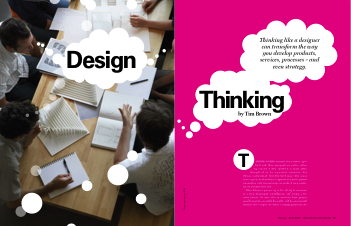 As a business thinking non-designer with a lot of experience working with   design thinking designers, I have learned that the process and tools designers are using can efficiently be applied in businesses in team-based approaches to innovation. Therefore, I think it is most important that Design Thinking is being defined and explained in important business magazines such as Harvard Business Review. 
HBR is a subscription journal. However, you can find the article at IDEO's homepage (link). You also find other articles at this site that may be of interest to you. One example is an article about Service Design in Design Management Journal "From Small Ideas to Radical Service Innovation" (link)