My, its a while since I posted here. I have been all caught up in finishing the AT-ONE workshops for our partners and arranging the conference for November (which is looking very good by the way). Since its Summer and real news is thin on the ground, I thought I would post something in the summer vein.
I saw this news item on the BBC, about a zoo using elephants as a car wash (link),and it got me thinking of a few things. Firstly, I was in Innsbruck teaching service design to students at the business school there, and our case example was the Alpine Zoo in Innsbruck. This made me understand something about what gives a special experience at a zoo – closeness to the animals – and how many zoos have lost and refound that simple fact.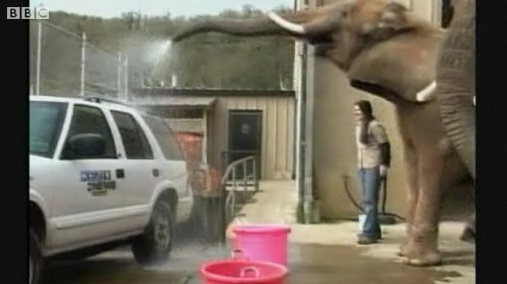 Then, I was inspired to plan a trip to see the Northern Lights in Norway. I have lived here for ages, and have seen them a couple of times down here in the south, but have always wanted to go up north to see them in their full glory. I went onto the Norwegian tourism site, which wrote poetically about them, only to disappoint me terribly with two things:
1. It stated that to enjoy the Northern Lights you should plan a two week trip! Now, who wants to go to Northern Norway in the middle of the darkest darkest cold winter for two weeks
2. It was really difficult to find a package for viewing them. The site left me with a map showing some hotels in the city of Tromsø and left me on my own – no information about how to go about finding the Northern Lights once there, or even if Tromsø was the right city. Kinda figure it out yourself.
Altogether these things put me off, after calculating the cost of taking two weeks off work, flights and two weeks at Norwegian hotel prices and probably some car hire too. And that is a real shame, because I'm sure that I might be missing out on something really good. And brought me back to  the brilliant  idea that the Zoo had, using elephants to wash the car. Its probably a terrible car wash, but the experience of it is something that will remain in all kids minds (and parents too). How can northern Norway do the same? Well, you cant expect people to travel up for two weeks with the expectation that they might experience something, and might not. And you have to give them something to remember, even if the weather is bad and the lights don't show themselves. How about dog-sled rides to a viewing site from the hotel? The experience of that  would be enough, even if the lights didn't appear.  A Northern Lights centre, that can almost give you the same experience. In fact a whole package of Winter Norway, bundled into a long weekend. Each single item might not match up to the standard of an elephant washing the car, but the trip would certainly be something to remember.
At the conference, Kjell Reenskaug from Making Waves (link), one of Norways best  design and interaction design companies, will be presenting how they used service design principles to redesign the fateful tourist site I mentioned (visitnorway.com). This is interesting, because they moved from a traditional "interactive" role, to a service-design role encouraging actor collaboration to tailor customer experiences, which then could be communicated through the web site. I like that approach, so will log on to the new site and try again next winter to get my Northern Lights experience.