After writing the last post about Jonathan Reynolds presentation about Service Innovation I started to think of great examples of service innovation in Norway. One which I admire greatly is the Statoil coffee deal. This is a deal from one of the leading petrol station chains in which you buy a coffee cup for 99NOK (about 12 Euro) and then fill the cup as many times as you like during 2008 for free.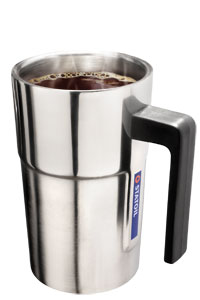 The deal has become an incredible success. The magazine FAST FOOD (link) gives some facts about the deal: They expect 800 000 people to buy into the deal this year (the cup design is changed each year), and filling coffee is a main motivation for 28% people to choose Statoil. From a population under 5 million people, a penetration of 800 000 is an incredible number.
The coffee deal encourages loyalty and gives a boost in the sales of products other than petrol. At the same time, it gives an improved customer experience. Filling petrol is not the most exciting experience in the world, particularly in winter-cold Norway. The reward of a good, tasty, hot cup of coffee takes the focus away from this (and the ever-spiralling amount that you pay for your petrol). It gives a great conclusion to the whole service journey, an experience that continues many minutes after leaving the station itself. And 'finishing strong' is a key part of service delivery.
Not only that, there are probably over a million pieces of advertising merchandise in circulation in which people willingly advertise Statoil.