I found this great interactive info-graphic on the Guardian website (link) as a precursor to the recent US election.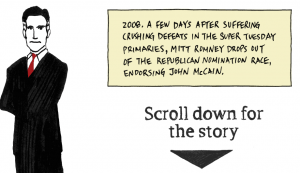 What I really like about it is that it gradually reveals new parts to the story as you scroll down the page. This gives an immersive experience that I'm sure could be copied with success in online services. The integration of text, image, animation together with the user interaction gives a great experience – one that I haven't seen before. I really wish I knew how they do this.
This is a nice example of what one of my colleagues, Jon Olav Eikenes at AHO, described as navimation (look here for more info and examples). A combination of navigation and animation that together can initiate a strong emotional and experiential bond between the content and the user.
If anybody knows how this is done and can point me to an easy (!) way to do it, I would be grateful. I would like to experiment with it in commercial service provision.